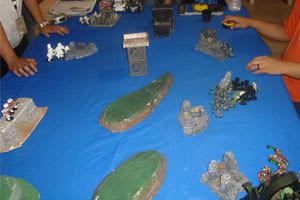 This is like the first real game I had in Galleria in... years. I had a game in 40K a few days back in Fortress against Romy and his Emperor's Children, a refresher match so to speak. I know I might play against a new guy, so for sure I will play my ace game and not disappoint.

I was matched up against a high school student named Jessie (he was still in his uniform when we played). He played Luna Wolves and apparently is the kid brother of another player there, and was relatively new in the hobby. Now seeing that I had years over this kid, the initial impression would be I'm just a big, foul-mouthed bully. And indeed I may have been a big, foul-mouthed bully, but that's how I play. Mercy is for the weak! Besides, one thing I learned with playing all the miniatures games that I play is to never underestimate your opponent.

The mission was Omega Take and Hold, with the objective being a tower in the middle of the table. My list was pretty much expected for any Necron list - Warrior Phalanx with Flying Circus. I opted not to go for the more common Destroyer Fleet build (wanted to try out commuting with a Monolith) or a Fear build (not enough models).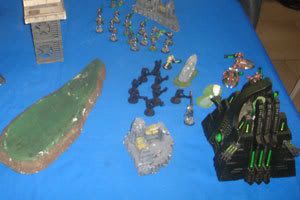 My opponent had a versatile mix of Marines with varied heavy weapons. His force was led by a Terminator Librarian who he attached to a Terminator squad. He also had another Terminator squad (assault) reserved for deep strike.

The boyz there said that he played a reactive style when Jessie gave me the first turn. Since a lot of his artillery were still off-board, my Phalanx advanced their slow 6 inches forward. On his turn I got to gauge which targets from my force he prioritized, but I got a pretty decent share of WBB rolls on the following turn.

The Lord veiled with the Immortals to thresh down his Lascannon squad, while two Warrior squads took my right flank to tie up his Assault Terminators. With the Lascannon Dev squad gone, all I needed to worry about him breaking the Monolith was his Predator and Razorback. Later on in the turn, I managed to bring those down, too, as my Necrons only received little casualties.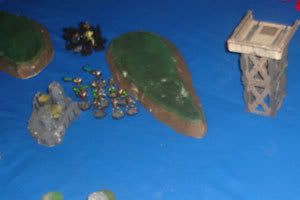 Reducing his squads to non-scoring units or immobilized vehicles, I had free reign to have my squads to get even more victory points from the objective at the center of the table.

I had to rush over to Fortress for some WARMACHINE so I had to leave after that game. But all in all, I was very pleased with how the Necrons played out. I had my share of bad rolls so I had to rely more on target denial for Phalanx safety and fire discipline for surgical removal of his key units.