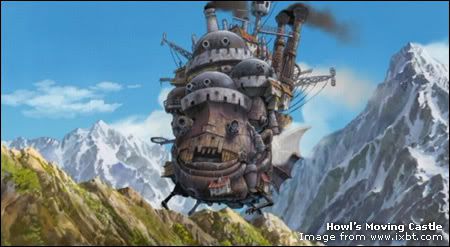 I'm never one for fairy tales. I've long given up on the notion of "happily ever after". But I guess once in a while, I let my guard down. I definitely enjoyed watching
Howl's Moving Castle
. Yeah it's got fantasy and mush, plus it's got lotsa "what-the-hell-is-that?!?" elements.
From the looks of the art, it's like Nausicaa. The quality of production was top notch! Miscellaneous background animation and character design, all of it contributed to burning the whole image of HMC in my head.
Even more strange that besides the lack of blood, sex or violence, I STILL liked it. Yeah it's safe, you can watch it with your kids or better half, too.