Last Saturday, I hitched a ride with Emp and went our way to the AEGIS Open Meet. We both didn't know where Residencia 8888 is, but we did know that Fred and EJ were already waiting for us there, and Les is on his way to meet us there, too.

After a hearty meal of Hotshots (Crispy Burgermelt), EJ told us that Mr. Mark Humphries was bigger than Emp! Hmm, the name Mark Humphries brings about the image of that Monopoly guy. Not someone bigger than Emp LOL! Mr. Humphries is the one who made the event happen IIRC.

We signed on the Residencia logbook and proceeded our way up. Penthouse (insert resounding ooohhh here). There was a small pool there, but we decided it was too shallow for an Ogre Splashbombing. Victor Cabazor (Force Vector on the Tabletopwars forum) met us at the door. We signed in (dami formality noh?) and were handed name IDs. Besides Vic and his better half, a reception lady (most probably one of Mr. Humphries' help) and Mr. Humphries, we were the first ones there! And the tables were too small! When the boyz met up with Arvin and Paul downstairs, Arvin agreed to fetch the tables from Hobby Haven (somewhere during this time, Jacob and Jake arrived, too).

After a short wait (and looking around the displayed board games there), we met with Arvin again downstairs and proceeded to haul a pair of half-inch thick 4x4 plywood boards up to the penthouse. Yeah the guards sent us out back towards the service elevators. Gelo, Justin and Dick arrived during this time.

Once the tables were set up, the boyz started playing. If I remember right, a Warhammer game and a Warmachine game were played at the same time side by side. I couldn't really recall the details because I was with a nearby table watching Bang! I believe Joel arrived during this time, too.

Well, after that it was all a whirlwind. Carlos Sandico arrived as well. I got to meet Brel, owner of the Tabletopwars forum, and got to see his Dungeoneer card game. I got to play Bang! I got to see the Navia Drapt game. I got to play Warmachine against Paul (he used Magnus this time). And the Boyz got to enjoy hearty laughs with the Bang! card game, too.

And as such, all good things must come to an end. We had to pack up and leave around 10pm. Les and Carlos stayed and enjoyed some more of the AEGIS Open Meet.

We capped the day with a very nice meal at Vivian's Da Orig Tapsihan! Man, they got good grub there! That will definitely NOT be the last time we go there LOL!

And finally I get to post pics of my Warmachine models this time! All photos courtesy of Brel: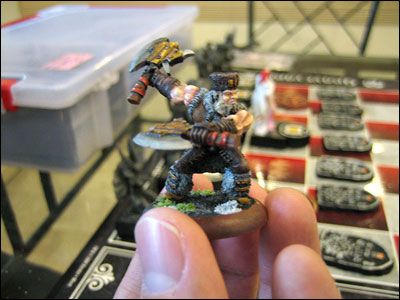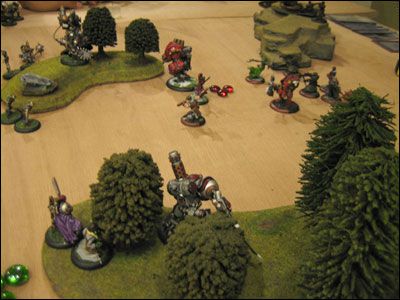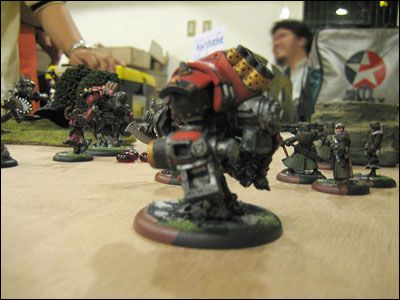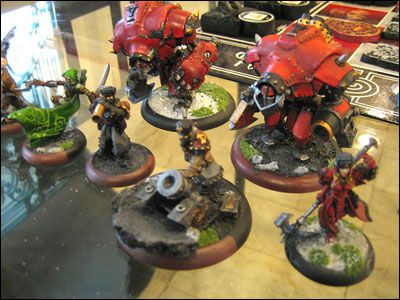 Warmachine players that attended: 7
Warhammer players that attended: 4
Warmachine players that also play Warhammer: 7
Floors before reaching Residencia 8888 penthouse: 14
Females who actually played and weren't just there: 3
Females who played miniature wargames: 0
Hours spent at event: 8 (2pm to 10pm)
Bang! games played: 5
Bang! Beer cards played: Madami LOL!
Times being Bang! Sherrif: 3
Warmachine games played: 1
Confrontation games played: 0
Players with cap present: 1 (ako!)
Players with chain on wallet: 1 (ako!)
Hagibis present: 1 (si Jacob BWAHAHAHAHA!)